Source: https://www.tucsonlocalmedia.com/explorewellness/article_0694f47e-e6b3-11ec-b960-db2b7ab77c96.html
By Nicole Feltman, Tucson Local Media Jun 8, 2022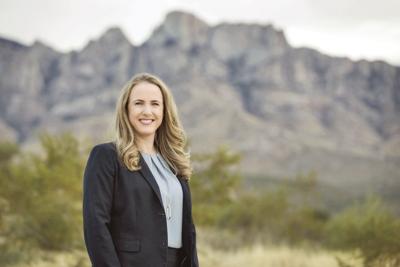 First elected four years ago, Vice Mayor Melanie Barrett is seeking reelection to the Oro Valley Town Council.
She said she chose to run for the Town Council in 2018 because "serving the people of my town is a way that I can make a positive difference in the place that I live," Barrett said.
She cites her work in improving the town's park and rec opportunities, the acquisition of the former Vistoso Golf Course as a nature trail and the selection of Kara Riley as the town's new police chief as some of her proudest moments.
"We've accomplished a lot of exciting things for the town," she said. "And I'm excited to try and build on those successes."
Mike Ford worked with Barrett on the effort to have the nonprofit Conservation Fund purchase most of the former Vistoso Golf Course, which had fallen into disrepair, and then donate it to the town, which will now maintain it as a nature trail.
"I think she wanted to find the common ground, and in support of an amenity that benefits the community," said Ford, the Conservation Fund's southwest director. "I give her high props for leadership and recognizing that the town could use some help."
Originally born in Utah, Barrett attended high school in San Diego, where she was president of the debate team and editor of her school newspaper. At BYU, she earned an undergraduate degree in English as well as a law degree.
She moved to Oro Valley with her husband 12 years ago when he landed a job at Raytheon.
She got involved in town politics when she won appointment to the Planning and Zoning Commission. After Serving on the Planning and Zoning Commission for four years, she decided to run for Town Council four years ago.
Barrent said she enjoys being with a diverse set of council members with different perspectives and backgrounds to work towards solutions. She said she keeps the community in mind when she makes her decisions.
"I feel like I represent everyone in Oro Valley, no matter what age or gender or race or religion that anyone is," she said. "I feel like I can represent the whole town and listen to their concerns, and, you know, do my best to represent them."
Besides her work on the town, Barrett has volunteered in the Amphi School District as a coach for Odyssey of the Mind, a problem-solving program involving students from kindergarten through college.
"I'm always trying to take the long-term vision, because I'm raising my family here," she said. "I would love to see my children raise their families here. And I intend to be here with my family for the long haul."